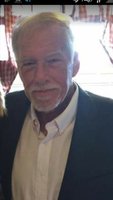 James Conard Bledsoe
James Conard Bledsoe, 73, husband of Susan Scott Bledsoe, passed away at Baptist Health in Louisville, KY on October 12, 2019. James was born in Pennington Gap, VA to the late Truman and Mary Ruth Bartley Bledsoe.
A graduate of Pennington High School in 1964, Hiwassee College in 1966 and Lincoln Memorial University in 1968, Mr. Bledsoe spent his life as a school teacher, teaching Math, Physics and Art. James loved his profession and had a great hope for kids in education. He thoroughly enjoyed spending time fishing, hunting and creating art (drawing and painting). James had an affinity for the mountains of Virginia and there was never a day that he didn't miss them. But most of all, James loved all of his family and was always available when they called. Mr. Bledsoe was a member of the Baptist faith.
Mr. Bledsoe is preceded in death by his parents, Truman and Mary Ruth Bledsoe; son, Joshua Mark Bledsoe; and brother, Gilmer Franklin.
Mr. Bledsoe is survived by his wife, Susan Scott Bledsoe; daughter, Holly Bledsoe Owens (Ron); sister, Brenda Woliver; brothers, Joseph Bledsoe (Tammy Large), Bob Bledsoe (Phoebe) and Doug Bledsoe (Myrna) grandchildren, Ella Grace Owens and Coralee Carter Owens; special nieces, Audriana Blanton, Macy Napier, Billie Blanton, Heather Strong, and many nieces and nephews he loved dearly.
A Memorial Service will take place in Virginia at Mullins Sturgill funeral home, October 26th. Visitation will be from 6:00-8:00, with funeral at 8:00.
In lieu of flowers, the family has suggested contributions in Mr. Bledsoe's memory be made to the American Cancer Society or St. Jude Children's Hospital.
Arrangements have been entrusted to the Saffell House Funeral Home.
Condolences to the family may be expressed at www.saffellhousefuneralhome.com