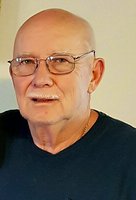 James Winston Searcy
James (Jim) Winston Searcy 74, of Lawrenceburg died Saturday September 15, 2018. He was the son of the late James Clevland and Susan Mary (Stratton) Searcy.
James was a Maintenance Supervisor for Four Roses Distillery with 40 years of service. He was a graduate of Anderson County High School. He loved to hunt and fish. He had a green thumb for landscaping. James was a member of St. Lawrence Catholic Church.
James is survived by two daughters, Lyn O'neal and Lisa Preston; three sons, Brad Searcy, Sean Searcy, and Jordan Searcy; three brothers, Bobby Searcy, Jackie Searcy, and Stanley Searcy; nine grandchildren and two great-grandchildren.
He was predeceased by one brother Larry Searcy.
There will be a memorial visitation Friday, September 21, 2018 at 5:00 P.M. at Saffell House Funeral Home with a private burial by the family.