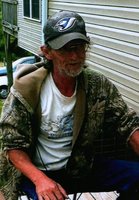 Steve Russell Turner
Steve R. Turner, 64, husband of Shelia Marie Foley Turner, passed away at his daughters home on September 10, 2018. Born in Woodford County on June 4, 1954, he was the son of the late John Russell and Mary Lou Turner.


A graduate of Woodford County High School; Mr. Turner worked for IBM/ Lexmark where he operated the assembly line. Steve lived the majority of his life in Lawrenceburg where he had his family. He thoroughly enjoyed his grandkids, his animals- especially Buford, watching western movies, eating chili, and spending time in the creek by his house. Steve was a very caring man who was always concerned about others. Mr. Turner was a member of the Freedom Baptist Church.

Mr. Turner is survived by his wife, Shelia Marie Foley Turner; his daughter, Melissa Marie Wallace (Brian); his son, Leon Russell Turner (Amanda); his two sisters, Linda Moore (Larry) and Beverly Stratton (Floyd); his brother, John Wayne Turner; his five grandchildren, Amelia Turner, Abigail Turner, Johnathon Turner, Hannah Wallace and Lucas Wallace; several brother and sister in laws; and his best friend, Chuck Markwell.


Services will be held at Saffell House Funeral Home on Friday, September 14, 2018 at 1:30 p.m., with interment immediately following at Lawrenceburg Cemetery. Visitation will be at the Saffell House Funeral Home from 10 a.m.-1:30 p.m. on Friday, September 14, 2018.

Steve Wells with Freedom Baptist Church will officiate the services.

Pallbearers will be Floyd Stratton, John Foley, Eric Corbin, Nick Foley, Alfredo Ramirez, Larry Moore, and Chuck Markwell.
In lieu of flowers, the family suggests donations be made to Bluegrass Care Navigators in Steve Turner's Honor.
Arrangements have been entrusted to the Saffell House Funeral Home.
Condolences to the family may be expressed at www.saffellhousefuneralhome.com