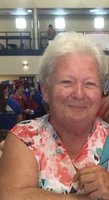 Debbie Kay Perry
Debbie Perry, 66, passed away at James B. Haggin Memorial Hospital in Harrodsburg, Ky on June 2, 2018. Debbie was the wife of Ray Perry Sr.. Born in Anderson County, on July 30, 1952, she was the daughter to Gilbert Alan Hawkins and Martha Webb Hawkins.
Debbie attended Anderson County High School and a native of Lawrenceburg/ Salvisa, where she spent the majority of her life. She spent her life as a wife, a mother, a grandmother and a great grandmother. Debbie loved her family and she thoroughly enjoyed spending time with them. Many know Debbie for her involvement in cooking at various restaurants in Lawrenceburg, one of many places she cooked was the Broadway Diner. She loved to cook but her family stated she would never share the full recipe.
Debbie is predeceased by her parents, Gilbert Alan Hawkins and Martha Webb Hawkins; two sons, Ray Thomas Perry Jr. and Michael Keith Perry; and one brother, William Russell.
Debbie is survived by her husband, Ray Thomas Perry Sr.; a daughter, Angela K. Chisholm (Terry Smith); a son, Benjamin Joseph Perry (Aimee); three sisters, Bonnie Jo Kinder, Ruth Ann Peavler and Sandy Sue Hawkins; two brothers, Gilbert Alan Hawkins Jr. and Brian Alan Hawkins; her grandchildren, William Chisholm, David Chisholm, Taylor Perry, Elizabeth Thomas, Jolynn Perry, Joe Thomas, Brooklyn Perry and Bryson Ford; her great-grandchildren, Lucas Chisholm and Gideon Chisholm.
Visitation will be at Saffell House Funeral Home in Lawrenceburg from 5-9 p.m. on Tuesday June 5, 2018.
Services will be held at Saffell House Funeral Home at 1 p.m. on Wednesday, June 6, 2018 with interment following at Lawrenceburg Cemetery.
Pallbearers will be William Chisholm, David Chisholm, Terry Smith, Donald Perry, Billy Lanham and Robbie Hicks.
Arrangements have been entrusted to the Saffell House Funeral Home.
Condolences to the family may be expressed at www.saffellhousefuneralhome.com