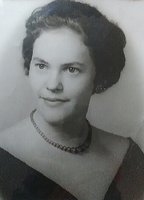 Alice Annette Moreland
Alice Annette Shingleton Moreland, 85, wife of the late Albert Clayton Moreland, passed away at home on December 1, 2017. She was born in Franklin County on September 5, 1932, to the late Oscar and Louise Shingleton.


Mrs. Moreland originally lived in Lawrenceburg and then later moved to Decatur, Illinois where her kids were raised. She then moved to Frankfort, Kentucky and then back to Lawrenceburg, Kentucky where she remained the rest of her life. Mrs. Moreland was a in home caregiver; she really enjoyed her job and dedicated her life to helping others in this venue. She loved to shop at flea markets or yardsales, and while collecting hats she had a unique style. Her love for animals and specifically dogs was known by all. Alice had stated, "a dog is your best friend", when referring to her loving Tammy, who she is survived by.

Alice Moreland is predeceased by her husband of 55 years, Albert Clayton Moreland; her son, Michael Moreland; her sisters, Mary and Nancy; and her brothers, Billy, Everette, Ed, Ernest and Gerald.


Alice Moreland is survived by her daughter, Teresa Denny; her son, Earl Singleton; her sister, Becky; her brothers, Oscar (Red), Steve and Earl; her grandchildren, Brittani Corrington and Patrick Singleton.


A Memorial Service will be held at Saffell House Funeral Home on Wednesday, December 6, 2017 at 6:30 p.m.. Visitation will precede the memorial service on Wednesday, December 6, 2017 at 6 p.m..


Flowers are welcomed but if you wish, in lieu of flowers the family asks that in memory of Alice Moreland a donation be made to the animal organization of your choice.

Arrangements have been entrusted to the Saffell House Funeral Home.
Condolences to the family may be expressed at www.saffellhousefuneralhome.com