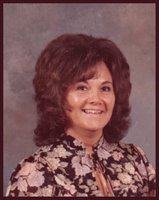 Helen Marie Bowman
Helen Marie (Young) Bowman 79 of Lawrenceburg passed from this life Tuesday, November 28, 2017 at her home. She was the daughter of the late William Stanley and Nettie (Riley) Young.
Helen is survived by a daughter Debra Sue (James) Thompson and a son William Esco (Buddy) Bowman. A granddaughter Leslee (David) Elliott and great grandson Hayden Carter Elliott. three sisters Aileen Caldwell, Brenda Perry, and Judy (Richard) Long and one brother Clinton (Shirley) Young. Beside her parents she was predeceased by three sisters Geneva Stratton, Georgia Foster, and Susie Stratton, and six brothers James T., Hoover, Lewis, Bruce, Phillip, and Cecil Young.
She was a member of Ballard Baptist Church, her passion was flowers and gardening and she loved to collect antique lamps. An excellant mother and a friend to all. Helen retired from Texas Instruments as a suprvisor after 36 years of service.
Visitation will be Thursday November 30, 2017 from 5:00P.M.-9:00 P.M. at Saffell House Funeral Home. The service will be Friday December 1, 2017 at 11:00 A.M. at the Funeral Home
Saffell House Funeral Home in charge of arrangements.