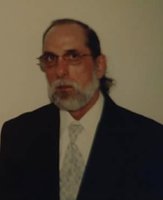 Richard W. Minor
Richard Minor, 64, passed away at home on November 9, 2017. Mr. Minor was born in Phoenix City, Alabama on January 21, 1953; he was the son of Benny Canon and Mildred Stevens.

Mr. Minor was originally from Ocala, Florida and moved to Lawrenceburg, Kentucky about ten years ago. He really enjoyed going fishing and watching NASCAR.
He is survived by his sons, Richard Minor (Charlene) and Joseph Minor (Mindy); mother, Mildred Stevens; sisters, Sherry Harrelson and Tina Minor; brother, Darryl Minor; Grandchildren, Richard Dean Roberts, William Minor, Amelia Minor and Chase Minor.
No services will be held, cremation was chosen.
Arrangements have been entrusted to the Saffell House Funeral Home.
Condolences to the family may be expressed at www.saffellhousefuneralhome.com