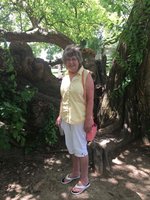 Bardie Whitehead Mattingly
Bardie Mattingly, 65, wife of the late Joseph Mattingly, passed away at Heritage Hall in Lawrenceburg, Ky on November 5, 2017. She was born in Leslie County, Ky, to the late Ralph and Hazel Hall Whitehead.

Bardie was a native of lawrenceburg and later moved to Bardstown where she spent some years. She also spent some time living in Lexington but ultimately moving back to Lawrenceburg where she spent her remaining years. Bardie worked a lot of her life as a waitress, but she enjoyed fishing and playing bingo on weeknights. She was a member and attended The Church of Christ.

Bardie is survived by her Speical Niece, Missy Smith; her Son, Kennith Holland; her Sisters, Kathryn Smith and Carol Jean Laird; her Brother, John Whitehead; two Grandchildren, three Nieces, three Nephews, and seven Great-Nieces and Nephews.
She was Predeceased by her Husband, Joseph Mattingly; her Sister, Jenny Marie Hargis; and her Brother, Willey Whitehead.

A Memorial Service will be held at Saffell House Funeral Home on November 8, 2017 at 11 a.m.. Immediately following the service, burial will take place at Lawrenceburg Cemetery.
Arrangements have been entrusted to the Saffell House Funeral Home.
Condolences to the family may be expressed at www.saffellhousefuneralhome.com