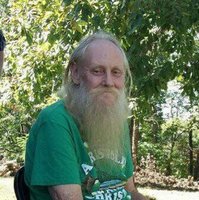 Mathew Dallas Doss
Mathew Dallas (Rinny) Doss, 59 of Lawrenceburg passed from this life October 12, 2017 at his home. He was a native of Lawrenceburg and the son of the late Matt Doss, and his mother Eva Frances Vaughn of Frankfort.
Mathew worked for Frankfort Pawn Shop and worked as a handyman. He was a 'southern' rock and roll free spirit, easy going and generous man; he also was a christian.
Rinny is survived by his daughter Amy Marie (Dane) Cunningham and three grandchildren, Quentaveon, Taejuan, and Keriyance Cunningham, all of Indianapolis. He has one sister Anna (Eddie) Lynch, their daughter Sandy Lynch, all of Frankfort. He has two brothers, John Wayne Doss, and Timothy Doss of Frankfort.
Service will be Monday October 16, 2017 at 2:00 P.M. at Saffell House Funeral Home with brother Mike Butler officating. Visitation will be from 11:00 a.m. till the time of the service. Burial will be at Stratton Cemetery.
Pallbearers will be A.J. Grigsby, Ronald Grigsby, Jesse James, Allen Tyson, Brandon Bailey, Dane Cunningham, Chris Jackson, and Gary Bailey, Jr. Honorary Bearer is Danny Tucker.
Saffell House Funeral Home is in charge of arrangements.