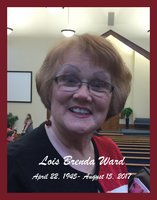 Lois Brenda Ward
Lois Brenda (Zeller) Ward, 72 of Georgetown passed from this life August 15, 2017 at the Baptist Heath Hospital in Lexington, Ky. She was the wife of Wendell Ward of 56 years and the daughter of the late Curtis Zeller and Ozel Mae (Sanders) Zeller.
Brenda and Wendell were the parents of one son Barry Trevor (Susan) Ward two daughters Wendy Patrice (David) Thacker, and LeLani (Dennis) Rogers. Two Brothers Goebel Zeller and Roger (Patricia) Zeller 5 grandsons Taylor (Rachell) Rogers, Nathan Thacker, Christopher Ward, Isaac Rogers, and Mason Ward 3 granddaughters Emily (Travis) Coleman, Ariel Ward, and Rachel Rogers

She worked for the USPS and was a devoted wife and mother. Brenda was a member of Road Creek church of Christ in her youth and Eastend church of Christ in Lexington at the time of her death.

Memorial services will be Thursday August 17, 2017 at Johnson's Funeral Home in Georgetown Ky. from 6 P.M. till 9 P.M. with songs and reading the obituary at 7 P.M. On August 19, 2017 there will be another memorial service at Bailey Funeral Home, Elkhorn City, Pike County, Ky. from 1 P.M. till 3 P.M. songs and reading the obituary at 2 P.M.
.